Flat Roof Vs. Shingle Roof – A Quick Comparison
When designing a building, there are so many components to consider. One of those components that need focused attention in selecting a roof that will fit your building. Depending on factors like location, design aesthetics, size, and cost, you may want to compare the available options to determine which one is appropriate for your project. So what's better? A flat roof vs shingle roof?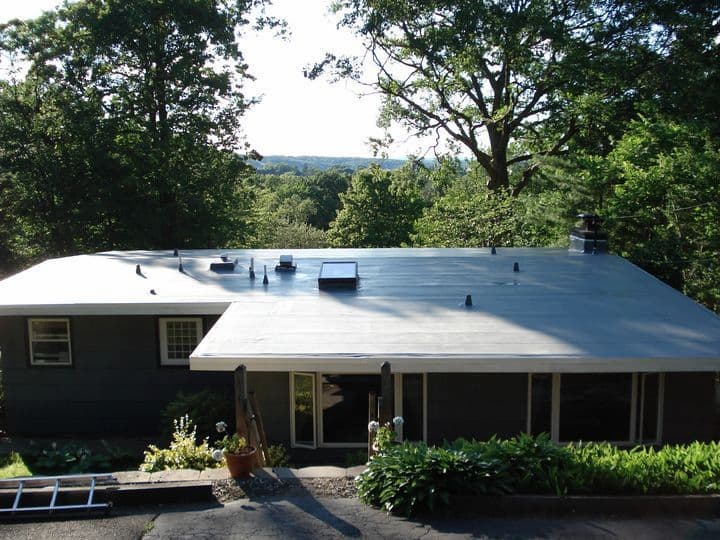 There are various options when choosing the right roof for your building. Comparing them all will take time and focused efforts to ensure that you factor in all the advantages and disadvantages of each one. This article will relay the information you might need if you consider either a flat roof or a shingle one.
What is a Flat Roof?
Flat roofing isn't genuinely flat. It has a shallow slope that drains water (between 1/4 and 1/2 inches per foot). However, because a low slope traps water and snow for considerably longer than a steeply pitched roof, it fundamentally requires a different material to keep the top waterproof. It is a difficult situation, especially if you don't have roof hatches for maintenance purposes. 
A flat roof's construction is a monolithic or continuous surface that can contain some standing water for a short duration, unlike a regular sloping roof, which has overlapping shingles like fish scales so that water glides over them.
What is a Shingle Roof?
The simple answer is that it's a shingled roofing installation. Shingles are flat, rectangular slabs of asphalt, composite, or other material laid from the roof's base to its top, often overlapping to ensure complete coverage.
Pros and Cons of Flat Roof
There are three flat roof types, built-up roof (BUR), modified bitumen roof (MBR), and rubber membrane roof (EPDM). Here you can have a quick glimpse of their pros and cons:
#1. Built-Up Roof (BUR)
The classic hot-tar-and-gravel roof's composition comprises three or more layers of water-resistant material alternating with ballasted smooth river stone and hot tar. These roofs, which used to be of tar paper, are rapidly being replaced with more sophisticated materials like fibreglass membranes.
Pros
Fire-resistant
Aesthetically pleasing for decks and windows that overlook the roof
It is the most affordable choice for flat roof varieties
Cons
Incredibly heavy
Joists often need strengthening
Messy installation
Gravel can clog gutters and scuppers
Leaks are challenging to find
#2. Modified Bitumen Roof (MBR)
It is a single-ply rolling roof with a mineral-based wear surface comparable to an ice and water shield. The glue is heated while the material in torch-down systems gets unrolled. Recent peel-and-stick systems are more secure and straightforward to use.
Pros
Owners can install its peel-and-stick material
Its light-coloured surface reflects more light which results in a less heat-island effect and lower energy bills
Reasonable cost
Cons
Not recommended for occupied buildings
Torch-down application is a fire hazard
Not as damage resistant compared to EPDM
#3. Rubber Membrane Roof
EPDM is a "true rubber" (ethylene propylene diene monomer). The single-ply membrane material looks like an inner tube, but its design can withstand UV damage. You can ballast, glue, or mechanically fasten EPDM using fasteners.
Pros
Easy installation
The material is relatively light but highly resistant to scuffs and tears
Patching leaks are easy
Cons
Light-coloured coatings (preferred in warm areas) add 30% or more to the expense of the conventional black material, which absorbs heat. However, even the black variant is more expensive than BUR or modified bitumen.
More vulnerable to puncture compared to other choices
Pros and Cons of Shingle Roofing
There are various material types for shingles that you can find in the market today, but the most common one is asphalt. Here are the advantages and drawbacks of choosing shingle roofing:
Pros
Inexpensive compared to other roofing types and well suited for owners on a tight budget.
It is aesthetically pleasing with excellent curb appeals. It has a flexible design that can fit a wide array of buildings. They are available in several types, including laminated, three-tab, and premium.
Installation and cutting are trouble-free due to the lightness of the material. There is very little prep work necessary, and there is no requirement for special equipment.
Replacing it is straightforward because you can do it one at a time.
Cons
Inexpensive asphalt shingles may be more susceptible to severe winds, causing them to detach and leak, leaving your roof more exposed to leaks.
Extreme temperature changes can cause cracks in shingles as they expand and shrink. Asphalt shingles can potentially break due to excessive heat.
Installing asphalt shingles in the winter is typically not a bright idea, mainly if conditions are below freezing. It might result in damaged shingles during the installation process.
It might not make the impact you need if you're looking to be unique. If you wish to stand out, this roofing type might not be the best option.
Asphalt shingles do not last as much as other choices since they are lighter, less expensive, and more vulnerable to damage.
If choosing the proper roofing for your project is already stressing you out, consider consulting a reputable professional who can aid you in making a solid decision. Roofers with valid credentials and experience can help you select what you need for your project and provide valuable inputs.