Skylight Installation Services
If you are considering a new skylight installation for your home, choosing a reputable, experienced skylight installer goes without saying.
With over 20 years of experience as a skylight contractor, make CD Roofing & Construction Ltd. your first choice.
We're rated the gold-standard Velux skylight installers and experts in installing all types of skylights from all the leading brands. We take pride in our workmanship and only use the highest quality materials to ensure a long-lasting product. We also do maintenance and skylight repair. If you're looking to install a skylight, need repair, replacement or just have questions, give us a call and get the best advice on your next daylighting project.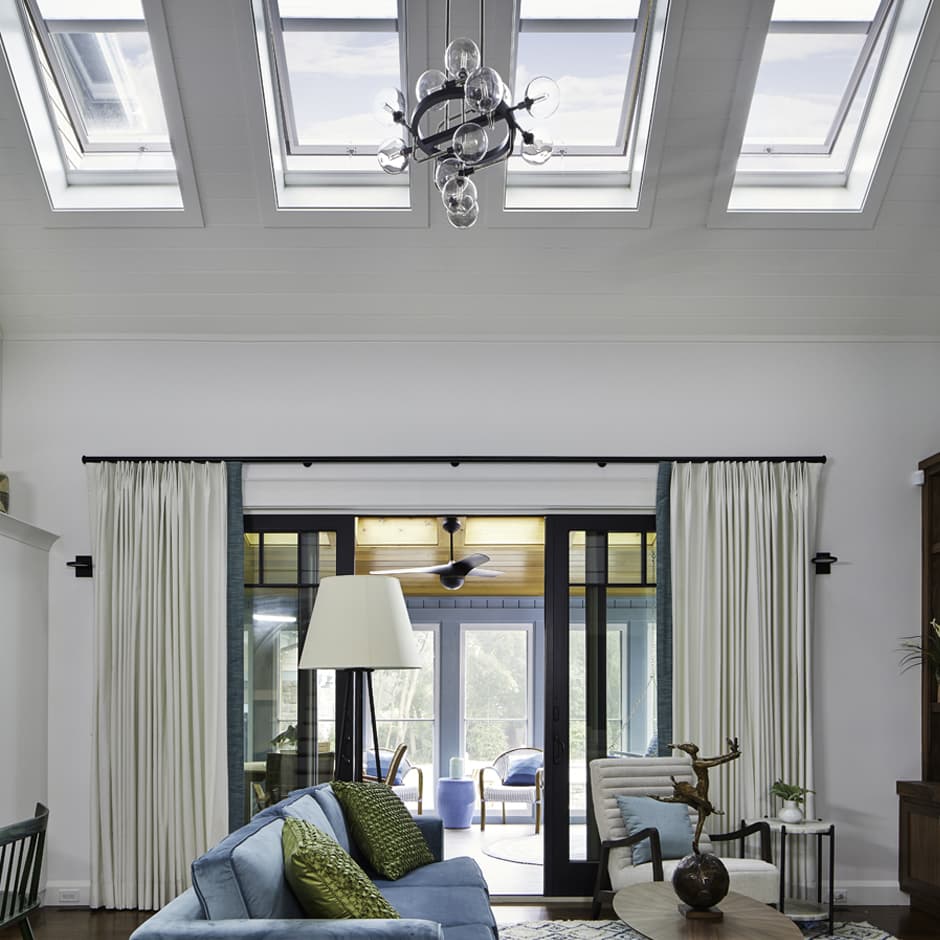 Customized Options to Fit your Living Space
At CD Roofing, we understand that each home is different; therefore, each skylight installation should be customized to fit the specific needs of your home. We offer a variety of skylight sizes, shapes, and styles to choose from, and we will work with you to find the best option to fit your space.
We also offer a variety of add-on features, such as blinds and screens, remote control, apps for your phone and more to further customize your skylight and ensure your complete satisfaction.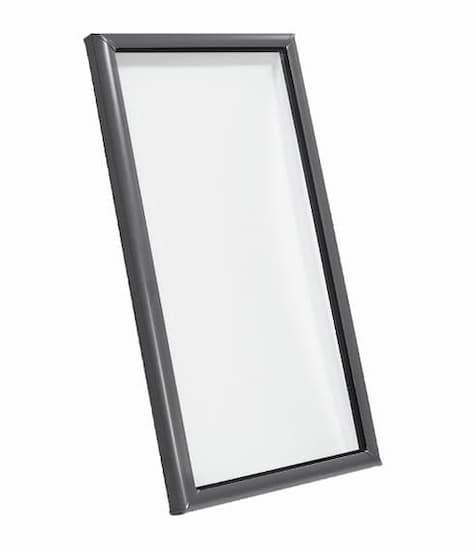 Fixed skylights
They remain closed at all times and only transmit light. They are a better option for a ventilated room because they do not allow air circulation. They are less prone to leaks and provide more energy efficiency by sealing in the air in your home.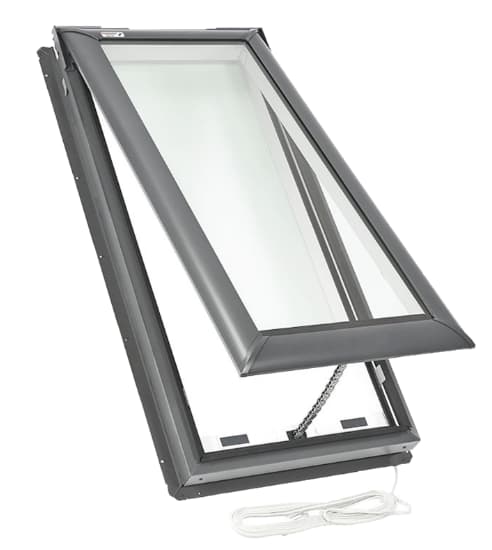 Vented skylights
They open and close to allow for ventilation and help with air circulation. They are a good option for rooms that tend to get stuffy, such as kitchens and bathrooms. These skylights have a built-in mechanism that allows them to be opened and closed manually and remotely.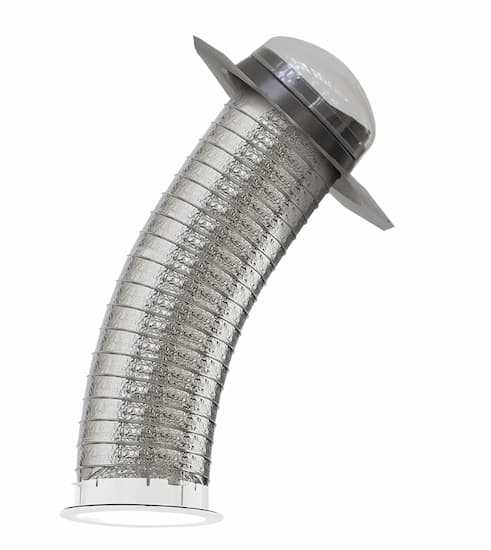 Tubular skylights
Velux Sun Tunnels are long, cylindrical tubes that run from the roof to the ceiling of your home. They are a good option for rooms that do not have a lot of natural light, such as hallways and stairwells. Tubular skylights are also very energy efficient.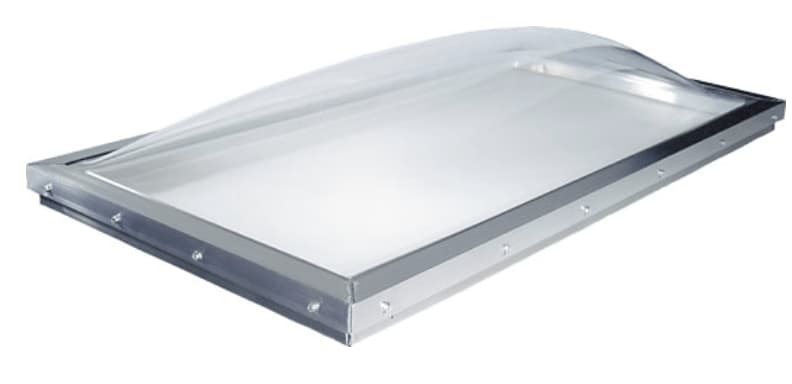 Dome-shaped skylights
For commercial buildings, this type of skylight is very popular. They are a good option for large spaces like warehouses and factories, and also make good skylights for homes with high ceilings, such as living rooms and foyers. Their shape allows sunlight to evenly illuminate a room.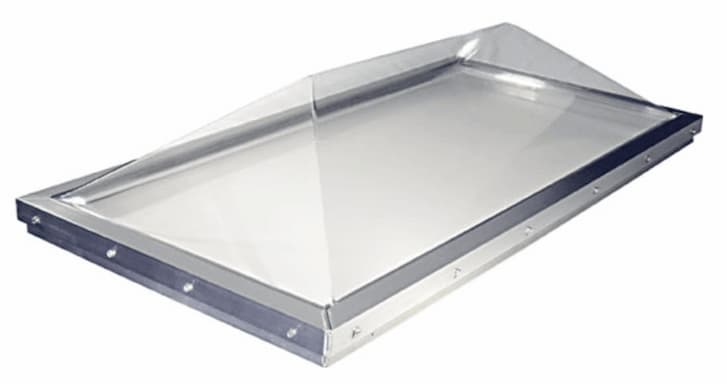 Pyramid skylights
They are commonly used by commercial buildings but can be installed on residential buildings as well. The pyramid-shaped lens magnifies the light. They are mounted on curbs and are a good option for flat roofs. They are available with several pitches or slope options.
The Process of Installation
Let's have a quick discussion about your project to better understand what you are looking for. We will then schedule a free in-home consultation, during which one of our experienced skylight contractors will come to your home, assess your needs, and provide you with a free estimate.
Once you have decided to move forward with the project, we will work with you to schedule a time for installation that is convenient for you. We understand that having strangers in your home can be disruptive, so we work hard to minimize the inconvenience and make the process as smooth as possible.
What you can expect:
A thorough inspection of your roof and attic space ensures that your home is suitable for a skylight installation.
A detailed explanation of the installation process.
An accurate and honest estimate. There are no hidden costs or fees.
Quality materials and workmanship. We only use the highest quality materials to ensure a long-lasting product.
A clean job site. We will clean up after ourselves and ensure that your home is in the same condition as when we arrived.
A warranty on both materials and labour. We stand behind our work and offer a 10-year warranty on materials and labour.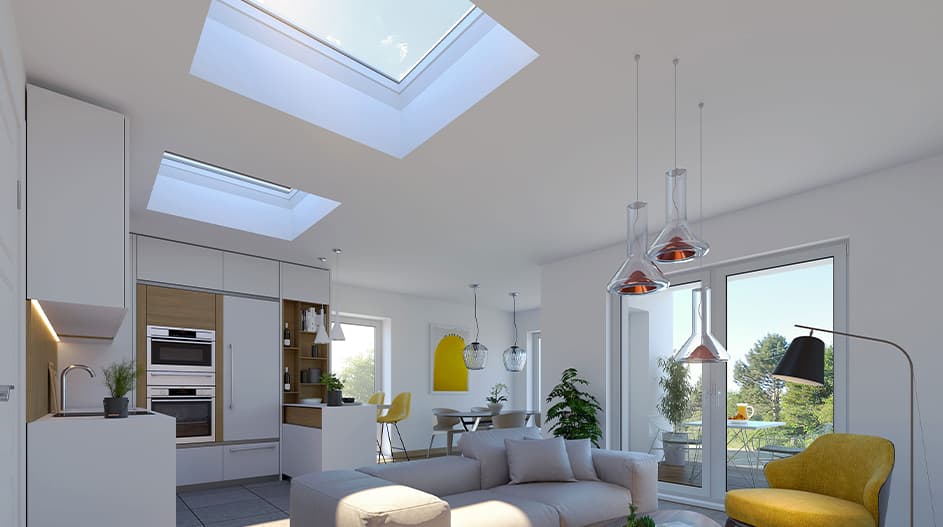 The Benefits of a New Skylight
Installing a skylight is a great way to improve the appearance and value of your home and increase the amount of natural light that enters your home. You can take advantage of many benefits that come with having a skylight, such as:
Reduce energy bills by reducing the need for artificial light
Vitamin D from natural sunlight can improve your mood and energy levels
Skylights brighten up dark and dreary spaces
Add value to your home
Reduce your carbon footprint
Vented skylights provide ventilation and can help reduce moisture build-up and mould growth in your home.
The additional natural light that skylights bring into a home is magical. It creates a beautiful, open, and inviting feel in your home, along with energy-saving benefits that will help lower your utility bills. The natural light from skylights also positively affects your health, providing much-needed vitamin D and improving your overall mood. Skylights improve the look of your home, both inside and out, and increase its value.
Frequently Asked Questions
The cost and complexity of installing a skylight will vary depending on several factors, including the size and type of the skylight, the location of the installation, and the roof type. Every home is different, and so is every skylight installation. Before you decide to install a skylight, there are a few things you should keep in mind:
Are other glazing options besides glass?
You can pick either glass or plastic skylight glazing. Glass is a better option if you are looking for durability and clarity. It is more impact and scratch-resistant and blocks out UV rays better than plastic. Plastic is a lighter-weight option and does not break as easily, but it is more susceptible to scratches and yellowing over time.
Glass glazing is more expensive and is usually tampered with or laminated to prevent shattering. Low-E coatings can also be applied to the glass to help with energy efficiency. You may consider a skylight with double- or triple-glazed acrylic or polycarbonate. They are usually cheaper, and the materials are more energy efficient than glass and can be tinted to reduce glare and heat gain.
Can I skylight be installed on any roof?
No, the roof's construction will play a big role in whether or not a skylight can be installed. The roof needs to be able to support the weight of the skylight, and the framing needs to accommodate the skylight's penetration. If your roof is unsuitable for a skylight, other options are available, such as solar tubes or electric light wells.
How do I know where to install a skylight?
The amount of light, heat gain, and glare that the skylight produces will all depend on where it is placed. Installing the skylight on the North-facing slope of the roof will help you get the most light out of it. You can install it on an east- or west-facing slope for more control over the light. You may want to avoid positioning the skylight where trees or other buildings would block the view.
What types of skylights should I be considering?
There are a few different types of skylights to choose from, and each has its own set of benefits and drawbacks. Fixed skylights are the most common type. They do not open or close, so they are unsuitable for venting. Tubular skylights are a good option if you want to add light to a small space, such as a bathroom or closet. They are also more energy efficient than other types of skylights. Ventilated skylights can be opened to allow for ventilation, and they are a good option if you want to reduce heat gain and glare.
Are there options to block light and heat from the sun?
You can dial down or block out the light and heat from a skylight by tinting the glass or adding a protective film. Privacy is another concern when it comes to skylights. You may want to consider adding a frosted film or shade to the skylight to increase privacy. You can block UV rays with an exterior shading device for plastic glazing.
Can I install a skylight myself?
If you're a skilled craftsman, it's possible, however, there are many cases where skylights are not a do-it-yourself project. The installation process is complex, and it requires special tools and skills to do it correctly. If the skylight is not installed properly, it can leak, and the roof's structural integrity may be compromised. It is best to leave the installation to a professional.
Do skylights require maintenance?
Yes. Skylights are vulnerable to leaking, and they need to be regularly maintained. Here are tips for cleaning and preventative maintenance:
Use a telescoping dust mop to dust and clean the skylight monthly
Inspect ceilings and walls around the skylight for water stains
Tighten screws and bolts if the skylight is loose
Yearly professional inspection for hairline cracks and leaks is recommended
Install ice and water shield for new skylights to prevent leaks
Add flashing to an existing skylight along with the roof underlayment to prevent ice dams
Use a rake or shovel to remove snow from the skylight area
Make sure trees and shrubs around the skylight are trimmed to prevent leaves and branches from falling on the skylight

Install your next skylight with an experienced skylight contractor
Get the most from your skylight installation by choosing us as your gold-standard skylight installer. Our team of experienced professionals will work with you to find the best type of skylight for your home and budget, and we will ensure that it is installed correctly. We also offer skylight cleaning and maintenance services to keep your skylight looking and performing its best. Contact us today to learn more about our skylight services or to schedule a consultation.