Emergency Roof Repair Services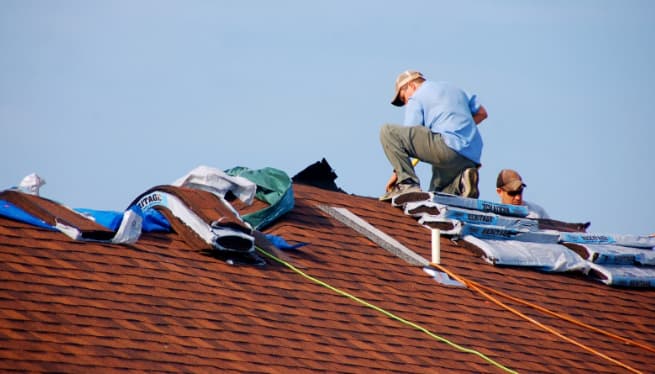 The unexpected can happen on any given day in the Canadian climate. Trees can fall, wind can blow shingles off and the most unfortunate of circumstances can occur. Our emergency roof repair services make sure you get the coverage you need in the timeframe you need it.
In many cases, the best solution is to get your home secure by tarping or covering the exposed areas to prevent any leaks and water damage from stormy weather or whatever nature's unpredictable forces bring.
You name it we've seen it.
We've dealt with everything from branches crashing through windows, trees tearing through roofs and chimneys falling apart sending brick pieces landing dangerously on the ground below. We're here to help when you need it the most and can get someone out for a quick patch job (if that's what it takes) to make sure that no further damage is sustained.
Emergency roof repair can require simple shingle replacement from a bad windstorm. If there are a few shingles missing, it can lead to a leaky roof, which needs to be repaired to prevent structural damage and the potential growth of mould. We specialize in shingle roof replacement, so getting a team out to you to fix the problem can be done with lightning speed.
Emergency roof leaks aren't the only thing that can cause you trouble. C.D. Roofing has experience in a long list of unfortunate situations that have gone wrong for many residents in Whitby and the Durham Region. Trust the experts in roofing when it comes to preventing your home from sustaining further damage.
If you have insurance that covers emergency roof repair, we're happy to work with your insurance company. We understand how stressful it can be to have your home exposed to the outdoor elements and the importance of ensuring everything goes as smoothly as possible.
The experience we bring to the table has helped us become one of the most trusted emergency roof repair companies in the Durham Region. Our team is friendly and responds quickly-especially when it counts. Give us a call and we'll make the repair process as quick and easy as humanly possible.
Want to learn more about our Durham Region Roofing Services?