Uxbridge Roofing Contractors You Can Trust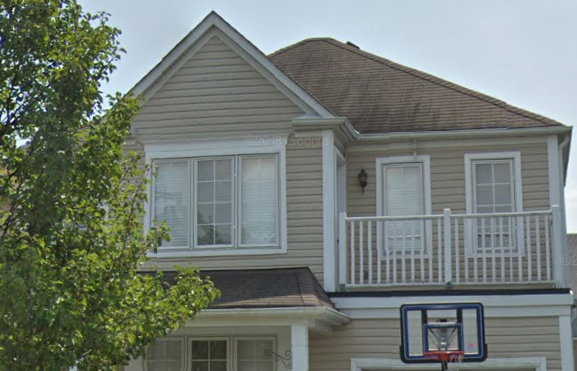 C.D. Roofing & Construction Ltd. is a team of highly skilled roofers that have been in business for over 25 years. When it comes to Uxbridge roofing contractors, you can rest assured you're hiring a roofing company Uxbridge is familiar with (you've probably seen the fluorescent yellow trucks!)
Roofing covers a wide range of services that aren't just roof replacement or roof repair.
Over time, every home eventually requires an investment to maintain an effective roofing system. The smallest leak in your roof can turn into a giant nightmare. You risk water damage and mould if leaks are not addressed ASAP. For this reason, it's important to make sure your home isn't exposed to the elements by maintaining the shingles, eavestrough, soffit, fascia and siding.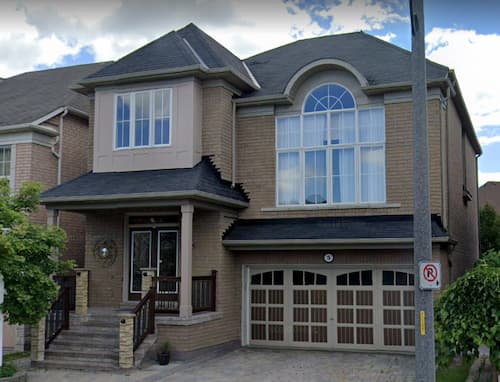 Our services include the following:
Roof repair and replacement
Flat roofing services
Siding installation
Eavestrough Services
Soffit and Fascia repair
Skylight Installation
Emergency services
Roof Repair and Replacement
Asphalt shingle roofs need to be replaced every 15-30 years. There's just no avoiding it. One of the crown jewels of our Uxbridge roofing services is shingle roof replacement. It's the cornerstone of our business and a service that we've refined to an art.
From impeccable workmanship to friendly customer service, our team of roofers is top class. We've developed a long list of return clients and are proud to provide unparalleled post service to ensure you're satisfied throughout the life of your roof.
Here's what one of our recent customers has to say about our company:

If you're looking for the best roofing contractors in Uxbridge, give us a call. We promise the smoothest and easiest roof replacement in Uxbridge guaranteed.
How to choose the best shingle products
Your roof is one of the biggest areas of your home's visual exterior. A roof can account for 40% of what people see from the outside. It's important to include the colour of your roofing shingle when you're planning the theme and décor of your outdoor living space.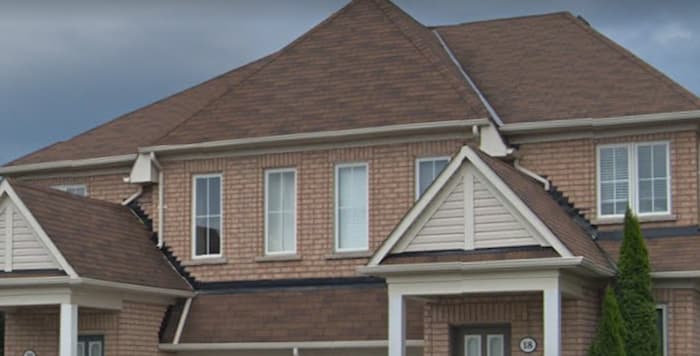 We promote BP shingles because they are a Canadian company and happen to be the industry leader in shingle technology. That being said we also offer many other brands including IKO, which offers a roof colour selector so you can visualize and compare shingles. You can upload an image of your home or choose a similar scene similar to your home from a gallery of images they provide.
The following table provides recommendations on how to match shingle colours with your home.
| HOUSE COLOR | BEST MATCHING ROOF SHINGLE COLOR |
| --- | --- |
| Red | Dark Brown, Black, Grey, Green |
| Light Grey | Grey, Black, Green, Blue, White |
| Beige/Cream | Brown, Black, Grey, Green, Blue |
| Brown | Grey, Brown, Green, Blue |
| White | Almost any color including Brown, Grey, Black, Green, Blue, White |
| Weathered Wood or Log Houses | Brown, Green, Black, Grey |
Flat roofing Uxbridge: Repair and new installations
Flat roofing is one of the fastest and preferred roofing services in Uxbridge we provide. With a flat surface to work on, there's less risk to our roofers, which allows us to move quickly and effectively. In fact, the level of workmanship that we demonstrate will impress our competition! We offer every flat roofing option under the sun featuring:
Rubber membrane
Modified bitumen
Built-up roof
Flat roofing is another highly refined skill our company boasts with hundreds of successful flat roof installations.
New siding installation? No problem
A brand-new siding installation provides an incredible addition to the look of your home. It's also beneficial for lowering energy costs by improving insulation. Choose from a huge variety of siding materials including but not limited to:
Vinyl
Fibre cement
Wood
Stone
Aluminum
Custom orders
Eavestrough installation and repair
An eavestrough is a vital component for extending the life of your roof. It's responsible for collecting and directing water away from your home to avoid water build-up. If water pools anywhere on your roof it can lead to rotting wood, water damage, roof leaves, and mould. Let us install your eavestrough correctly the first time around and save you time and aggravation as opposed to hiring a less experienced roofing company in Uxbridge.
Soffit and fascia assessments
To determine whether you need soffit and fascia replacement or repair, you need a professional to assess your roof. One of our specialists can be out to your home at a time that suits you best to give you a quick assessment.
Sometimes you may only need a minor repair to get you through several additional years. Honesty is a major asset you want to have with your Uxbridge roofing company and our honesty has been a shining quality that has made us successful for so many years.
Call us for a fair and honest assessment of your soffit and fascia.
Open up your daylighting options
Improve the light in your hallways or room of your choice by installing a skylight. C.D. Roofing has earned the gold standard in skylight installation and can guide you through the process of choosing the best daylighting options for your home.
Skylight options include a variety of standard models, but you always have the option to customize your installation to fit the requirements of your home.
Learn more about our certified skylight installation (Our team is Velux certified).
Emergency roof repair services
If you need a quick fix to an unfortunate circumstance, we provide emergency roof repair to get your home covered as quickly as possible. Ripped, broken or missing shingles need to be repaired immediately to avoid further damage. We provide same-day emergency roof repairs to Uxbridge residents on most occasions to reduce exposure and limit the damage sustained.
Home insurance takes care of any losses due to fire, hail, smoke, wind and a number of other occurrences. If you've selected animal infestation on your policy you may also be covered to repair the damages from a type of animal that has breached the exterior of your home.
Call us to get an agent out to you as soon as possible.
Products we use
Nails: High-quality galvanized steel nails.
Vents: Highest quality, ridge vents, solar vents, metal Lomanco vents and Air Hawk vents. We are certified in ventilation.
Vent Pipe Flashing: Duraflo vent pipe flashing is one of the best options on the market.
Aluminum Electrical Pole Saddle: If needed, an aluminum saddle pan is installed in front of the electrical pole for water tightness. Boots are galvanized and last forever.
Caulking: We match the colour with your flashings and to ensure a lifetime of waterproofing we use Premium TREMCO and Kop-R-Lastic
All Valleys: To ensure waterproofing we install a 26-inch gauge steel roof valley in all valleys.
Underlay: To guarantee water tightness we apply premium ice and water shields on all edges of the roof deck.