Flat Roofing Oshawa: Repair & Installation
The roof over your home or business is one of the last things you think of on a day-to-day business and yet it's one of the most important. Leave it to the pros when it comes to flat roofing Oshawa. Whether you're in a residential home or a commercial building, we got you covered.
We're no strangers to installing flat roofs in Oshawa. C.D. Roofing & Construction has been around for more than 25 years and we've done a fair bit of our based on word of mouth. Our clients have helped us build the reputation we have today based on the quality of workmanship we demonstrate time and time again.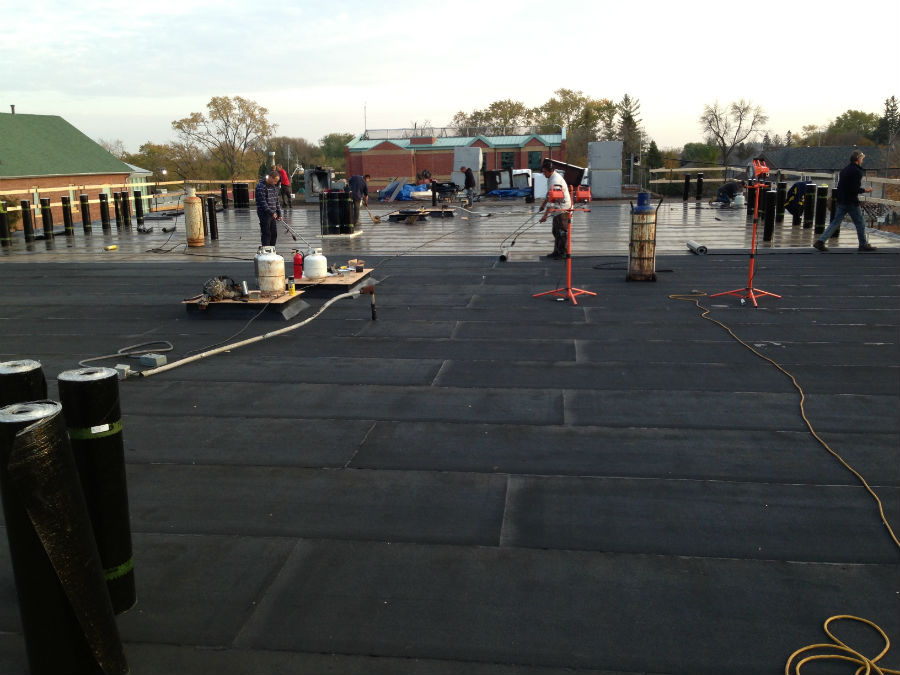 Commercial flat roof installation
Whether you're building is still under construction or you believe it's time to make a change our team can help you with your decision. You're one call away from getting the help you need from an experienced veteran from our team of Oshawa roofers. We provide in-person estimates to help you weigh out your options and make the most informed decision.
There are multiple types of flat roofs to choose from. Apartment buildings and condos have generally opted for asphalt or tile roofing, although we're seeing more and more commercial buildings choose a pitched metal roof. We help you get the most out of your investment with a detailed assessment of your roofing needs.
Oshawa flat roof repair and maintenance plans
Whether it's a minor repair or a routine maintenance check, our services are designed to extend the life of your roof so you get the most out of your investment. Preventative maintenance can make a huge impact in reducing costs. Our routine checks are designed to detect and correct any issues that could grow into costly expenditures.
Our program includes:
Routine clean-up to remove all debris on the roof. This could be the growth of plants, branches or any objects that could possibly threaten the drainage system.
Routine inspection and cleaning of all major drainage systems are functioning at peak performance (gutters, drains and downspouts).
Perform preventative maintenance to reseal any potential areas that could result in a leak. Reattach any components that have come loose.
Whether you need a minor flat roof repair or a brand new installation, our team is standing by to assist you. Give us a call for an estimate on your flat roofing project.
Perform minor repairs to any holes, tears, punctures that may have developed over a period of time.
Full reporting and documentation of all conditions that would affect the life of the roof. This includes health and safety-related issues along with recommendations for repair.
If your roof is under warranty, you will need an annual inspection at the minimum. Many warranties are voided without the proper documentation of flat roof maintenance on a regular basis. Our program ensures you live up to all requirements and get the longest life from your flat roof.
Residential flat roof installation
The three most common types of residential flat roofs in Oshawa are:
Built-up roof (BUR)
Modified bitumen roof
Rubber membrane roof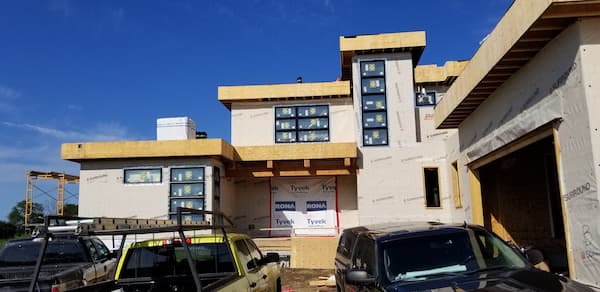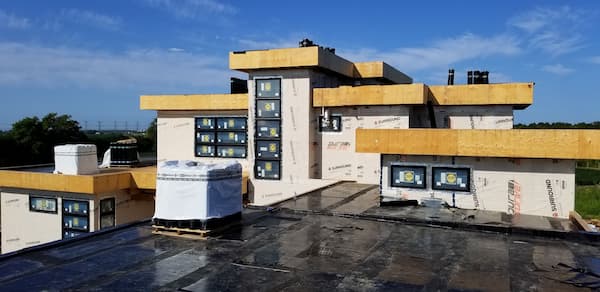 Built-up roof
A built-up roof is the least expensive type of material for residential flat roofing Oshawa. It's also the oldest type of installation. It's an attractive style that's made of hot and gravel is perfect for those areas of the roof that are seen when looking out from windows in the house or from a deck.
Apart from the cost and the look, the only other benefit to choosing this type of material is that it's fire retardant. It's generally very heavy and in many cases, joists need to be strengthened. The process is messy and smells bad making it a poor choice for installation while the residence is occupied.
There are also issues with the gravel making its way into to eaves rough and gutters.
Modified bitumen roof
This style of roof has become favoured over the BUR roof simply because the material and installation process is more advanced. A single-ply roll is heated up as it's rolled out to provide a safer and easier method of installation.
This material is cost-effective and reflects the sun to reduce energy bills. Due to risks during the torch-down installation process, it is not recommended for anyone to be in the house.
Rubber membrane roof
There are a few different types of rubber membranes you can use (EPDM, TPO and PVC) but the process and benefits of a rubber membrane roof remain the same. The rubber is rolled out and attached to the roof. It can be fastened, glued or anchored in.
The rubber membrane is similar to the inside of a tire and therefore is completely waterproof. It's lightweight and definitely the most expensive of all three options. While it's easier to puncture than other styles, leaks can be found and patched with ease.