Flat Roof Contractor for Homes & Businesses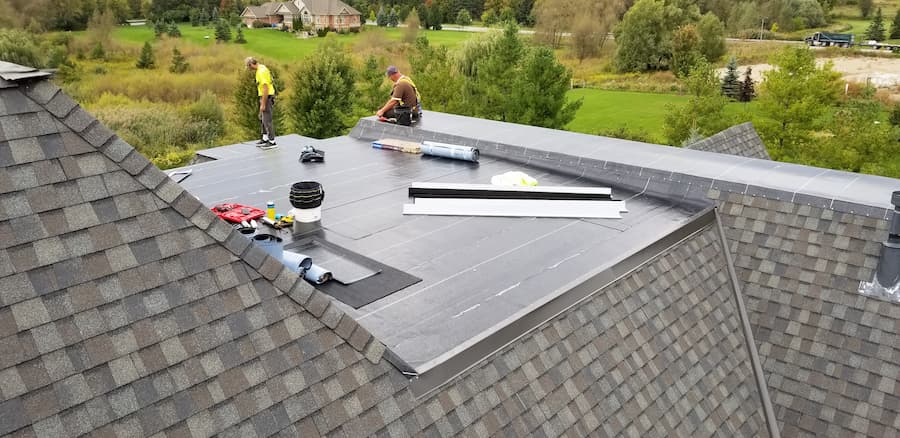 C.D. Roofing & Construction Ltd. is a certified flat roof contractor for both commercial and residential structures. For more than a quarter-century, our company has provided Durham Region and the Greater Toronto Area with superior flat roof repair and flat roof replacement services.
If you found us by searching flat roof contractors in my area, look no further. We offer every type of flat roof for businesses and homes both old and new.
Flat roof repair and maintenance
The best way to ensure the longevity of a flat roof is through regular maintenance and repair. Pooling water and roof leaks are an immediate cause for concern and signify it's time for a roof tune-up. It's important to identify the source of the problem and correct it as soon as possible to prevent further damage and higher costs for repair.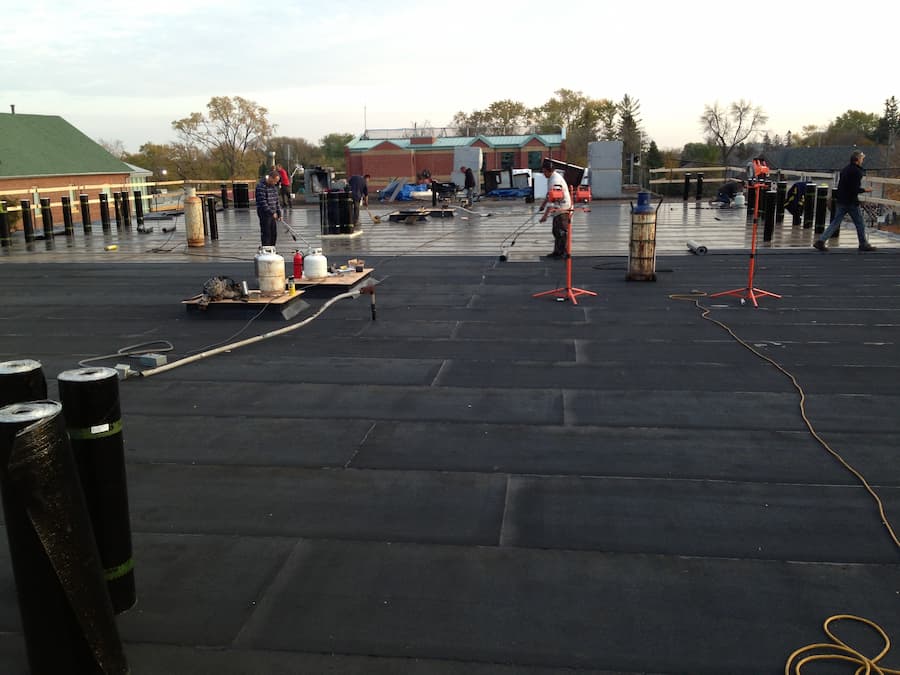 Our roof maintenance and repair services include:
Detailed roof inspections
Cut test to isolate tears in the membrane
Inspection reports and documentation
Consulting and recommendations
Roof repair on any of the three types of flat roofing
Custom metal fabrication on-site
Roof replacement
Flat roof replacement & installation
When the pitch is lower than 3/12, a flat roof is an excellent option for waterproofing your home or business. Choosing a flat roof means better access for maintenance and poses less risk to workers, which lowers the installation cost. Flat roofs are excellent for creating space and if maintained properly can last anywhere from 12-25 years (depending on the type of material you choose).
Why are we your first choice of contractors for flat roofing?
Highest quality of workmanship
Honest and dependable quotes and estimates
Excellent reputation in the roofing industry
A long history of successful flat roofing installations
More than 25 years of providing highly reviewed roofing services
Fast turnaround time
Affordable pricing and financing
Best flat roofing contractors in Toronto & Durham Region
Three types of flat roofing
As your premier flat roofing contractors in Toronto & Durham Region, we offer every option that meets your requirements. During your first consultation, we determine the best materials for your home or business based on your budget and any special requirements your roof demands.
Built-Up Roof (BUR)
This type of roof is one of the oldest types of flat roofing. It is traditionally comprised of three parts: bitumen material; roofing felt and one or more surfacing materials (gravel and stone).
The roofing felt and asphalt is embedded in the bitumen and applied with a hot mop. The process is repeated until there are three or four layers built up-hence the name built-up roof. The process is finalized by pouring a layer of gravel over top.
The material most commonly used to surface the roof is gravel or fine stones. This layer works to repel the sun for better insulation as well as protect the layers underneath from debris. The stone also evens out the surface making the roof easier to walk on.
Modified Bitumen Roof
Established in the 1960s, a modified bitumen roof is exactly how it sounds, another version of the built-up roof using bitumen. The difference is this system is comprised of single-ply sheets, reinforced with polymer, that can be applied with cold, hot or self-adhesive. Once these sheets are assembled, they offer a much more effective roofing solution. The added strength and elasticity of the reinforced polymer performs better in the lower temperatures of the Canadian climate.
The advantages of a modified bitumen roof are:
Enhanced insulation from the seamless connection of ply sheet bitumen
Improved sealing capability making this method more leak-resistant
Reduced energy costs from highly heat-reflective surface
Tear-resistant from the reinforced polymer and fibreglass
The bitumen can be hot or cold. The hot means it needs to be heated up to liquefy and become adhesive. The cold can be sprayed on and is not dependent on the weather, however, it is not considered to perform as well as hot or torched-down bitumen.
Single Layer Membrane Roof (EPMD, TPC or PVO)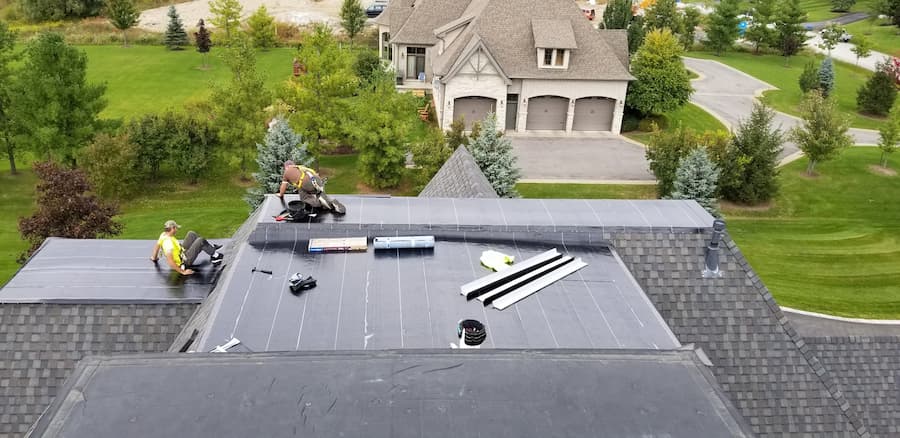 Of all flat roofing types, the single-layer membrane roof is the most effective. This type of flat roofing system utilizes the latest technology in flat roofing and is applied using a single-layer membrane. You can choose from a variety of types but the most common are:
EPMD (ethylene propylene diene monomer)
EPMD is an acronym for Ethylene propylene diene monomer and is most commonly seen on low-sloping commercial flat roofs. The benefits associated are its performance during extreme weather conditions and resistance to wind uplift. These advantages can be attributed to the fact that EPMD can be installed by adhesive, ballasted or mechanically attached.
TPO (Thermoplastic Polyolefin)
TPO is a membrane used to reflect heat from the sun and UV rays. It is especially effective for the summer months in keeping the surface of the rooftop cooler. It can be attached using an adhesive or mechanically which can result in the white membrane remaining exposed.
PVC (polyvinyl chloride)
PVC is considered the most durable and therefore the premium choice in rubber membranes. The material is more tear-resistant, pliable and effective for waterproofing. The process involves using a hot-air welded system to fasten the seams together (as opposed to using a special tape or adhesive in the alternative options). This also makes it the most expensive option in single-layer membrane flat roofing.