Best Roofing Company in Durham Region… Again?!
In the bustling heart of Durham Region, is a community that values excellence and craftsmanship in every industry. In this competitive landscape, C.D. Roofing & Construction has emerged as a shining example of dedication, quality, and customer satisfaction. Recently, the company achieved a remarkable milestone by winning the prestigious title of "Best Roofing Company" in the Durham Region, an accolade bestowed upon them by the local community through an enthusiastic voting process in the Readers Choice Awards.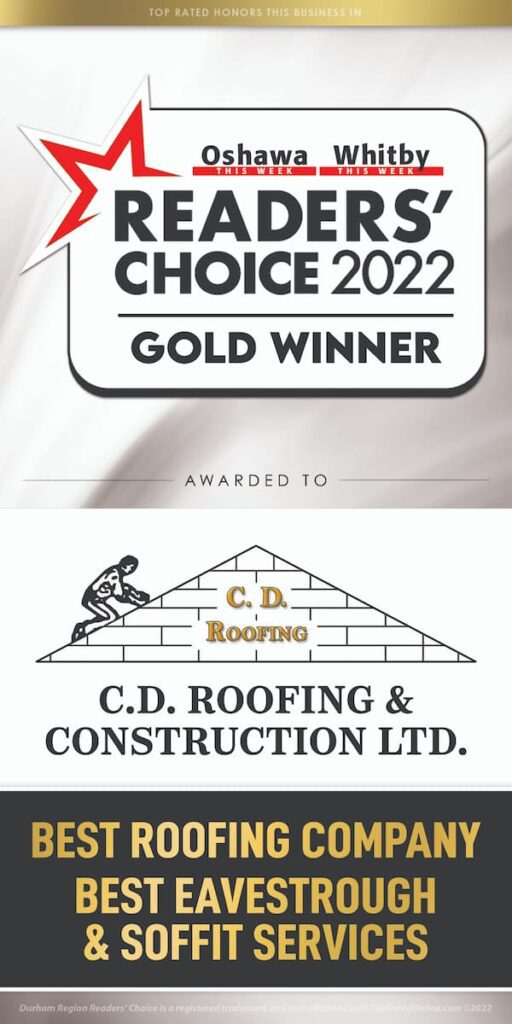 The Journey to Excellence
C.D. Roofing & Construction has been a prominent player in the roofing industry since 1995, earning a stellar reputation for its commitment to delivering top-notch services. The journey to becoming the best roofing company in Durham Region was not an overnight success, but a culmination of years of hard work, expertise, and a customer-centric approach.
Quality Craftsmanship
One of the cornerstones of C.D. Roofing & Construction's success is its unwavering commitment to quality craftsmanship. The company boasts a team of highly skilled and certified professionals who understand the intricacies of roofing, ensuring that every project is executed with precision and excellence. From repairs to installations, C.D. Roofing & Construction has consistently delivered results that exceed customer expectations.
Customer Satisfaction
Winning the hearts of the local community goes beyond just delivering quality services—it's about building lasting relationships. C.D. Roofing & Construction prioritizes customer satisfaction, going the extra mile to ensure clients feel heard and valued. Their dedication to excellent communication and transparency has not only fostered trust but has also resulted in a loyal customer base that eagerly supported their bid for the Best Roofing Company award.
Community Engagement
The voting process for the Best Roofing Company award in Durham Region was a testament to C.D. Roofing & Construction's active engagement with the community. The company has consistently participated in local events, supported community initiatives, and contributed to the overall well-being of the region. This genuine connection with the community undoubtedly played a pivotal role in securing the award.
The Award-Winning Formula
C.D. Roofing & Construction's success can be attributed to a combination of factors that form their award-winning formula. A commitment to quality, a focus on customer satisfaction, and active community engagement have set them apart as an industry leader. The Best Roofing Company award is not just a recognition of their skills in roofing but a celebration of their dedication to being an integral part of the Durham Region community.
Looking Ahead
As C.D. Roofing & Construction basks in the glory of being recognized as the Best Roofing Company in the Durham Region, the company remains steadfast in its commitment to excellence. With an eye on the future, they continue to innovate, improve, and set new standards in the roofing industry. The award is not just a culmination but a stepping stone towards greater heights for this exceptional roofing company.
In conclusion, C.D. Roofing & Construction's journey to winning the Best Roofing Company award in Durham Region, Ontario, is a story of hard work, dedication, and a genuine connection with the local community. As they continue to excel in their field, their success serves as an inspiration for businesses striving to make a positive impact in their communities.
Award Winning Services