Torch On Roofing for Commercial Flat Roofs
Flat roofs are among North America's most common types of roofing for commercial property owners. They provide effective protection from the elements but are also vulnerable to water damage. Torch-on roofing (torch-down roofing) is a robust and waterproof method for flat and slightly sloped roofs, offering many advantages over other roofing materials. It is a strong, durable, and long-lasting roofing solution that has been proven to withstand the elements for decades with little maintenance.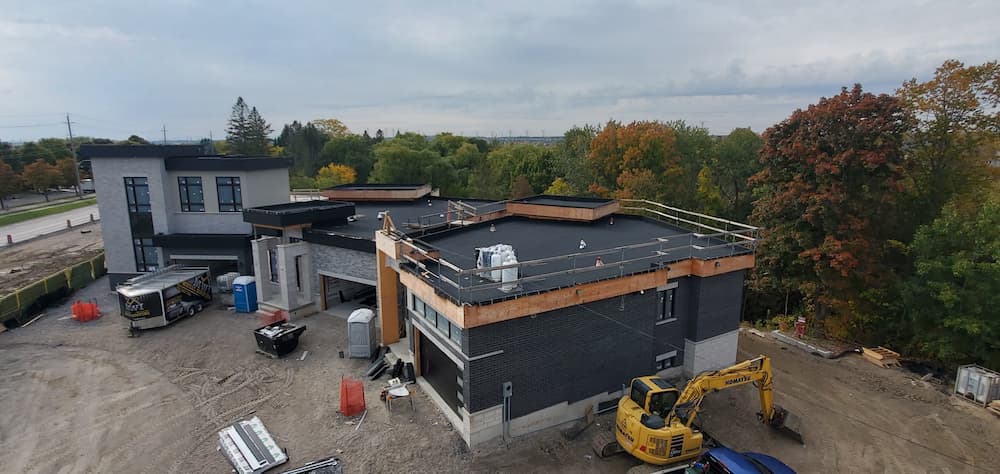 What Is a Torch On Roof?
As the name implies, a torch on roofing is a type of roofing system where two layers of modified bitumen membrane are applied over the roof's surface. The membranes are secured by melting them together using an open flame from a hot air gun or propane torch. This combination creates an impermeable barrier that protects the roof from water ingress, ultraviolet exposure, and extreme weather conditions.
The application of torch on roofing is usually done in two phases, first by applying the base sheet and second by applying the top sheet, each about 3-4 mm thick. Both sides of modified bitumen feature a thermo-fusible plastic film, and when exposed to the heat from the torch, this plastic film melts and bonds to the other sheet, forming a permanent bond between the plies.
This type of roofing can contract or expand without cracking or melting. It is able to endure the varying temperatures for both the heat and the cold experienced during seasonal changes, making it an ideal roofing option for apartment roofs and buildings in regions with extreme weather, like Oshawa, Ajax, Pickering, or anywhere in the Durham Region.
Types of Torch On Roofing
Torch on roofing is offered in two primary variations: two-layer systems or three-layer systems.
The two-layer system consists of a base sheet, which is normally a Styrene Butadiene Styrene (SBS) or Atactic Polypropylene (APP) modified bitumen membrane, and a cap sheet, which is typically a granule-surfaced modified bitumen membrane.
The three-layer system features similar components as the two-layer systems, but the roofing professionals apply a base sheet followed by a smooth cap sheet and finish with a granule-surfaced cap sheet. This supplementary layer significantly contributes to the durability and performance of the roof, improving energy efficiency, fire resistance, reflectivity, color, and UV resistance.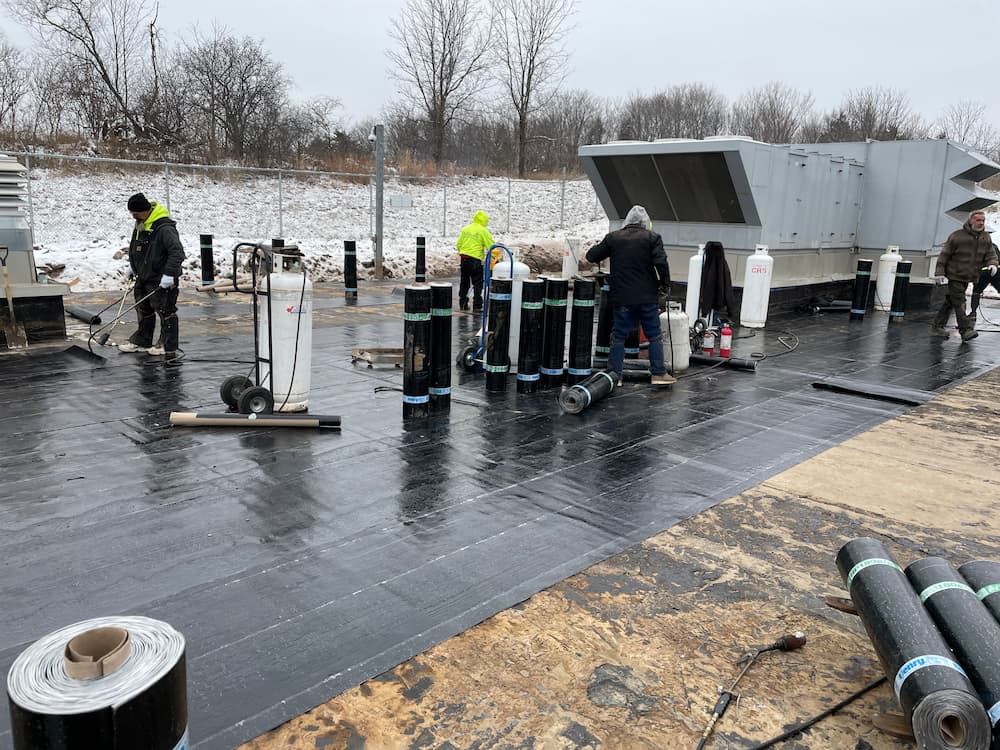 Advantages of Torch Down Roofing
Torch-on roofing can be a great option for both commercial and residential properties. Some of its advantages include the following:
Highly water-resistant:
The heat-welded seams and ultra-waterproof membranes make torch-down roofing ideal for protecting your building from the elements. The seams are incredibly strong and can handle heavy rainfall, snowfall, and high winds without leaking.
Durability:
Torch-down roofs can easily last up to 25 years or more when installed properly and yearly maintenance checks conducted. The flexibility to expand and contract as the temperature changes without melting or cracking makes this type of roofing especially resistant to harsh outdoor conditions.
Cost-effective:
This type of roofing requires minimal maintenance and repairs, making it more economical in the long run. The initial installation of this roofing might be slightly higher than other roofing options, but the low maintenance and increased longevity make it an economically sound decision.
Lighter weight:
Since it does not use gravel ballast like traditional tar & gravel roofs, torch down roofing is much lighter and without gravel to clog up eavestroughs or drains. It is less damaging to the underlying structure of the building, reducing potential costs from repair or replacement.
Less harmful fumes:
Mop-on roof coating or tar & gravel often require occupants to leave their dwellings during application as the fumes can be hazardous. Torch down roofing produces much less noxious vapors, meaning residents rarely need to vacate during installation. This makes it a safer and more convenient choice for homeowners.
Easy to modify:
Installing new components such as skylights, vents, and roof penetrations is easy with torch down roofing due to its flexibility, making it ideal for those looking to customize their roof. The heat-welded seams also make it simple to repair without having to replace entire sections of the roof.
Heat and UV Resistance:
During a heatwave, lighter-colored torch-on roofs can be a lifesaver. Their UV ray reflective properties are designed to keep your indoor temperature cool and comfortable, thus saving you money on air conditioning costs while making your property more energy efficient.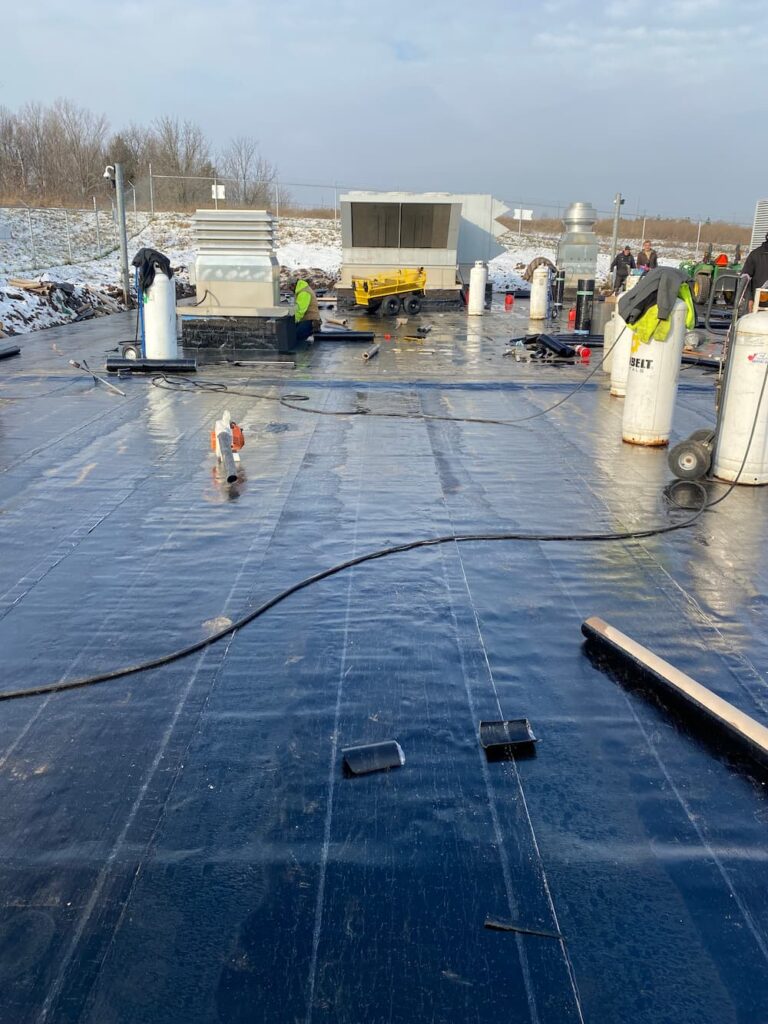 How Much Does Torch on Roofing Cost?
The two essential components of a torch on a roofing project break down into material and labor costs. For most projects, materials account for roughly 40% of the installation cost, with labor making up the other 60%.
The cost of installing torch-on roofing in Ontario can easily range from $10 to $20 per square foot or $24,000 to $48,000 for a roof that's 2,400 square feet.
The roofing materials per square foot have jumped in price post-covid, while labor rates can also vary greatly per square foot based on access and availability. The price can fluctuate further based on job complexity, warranties, add-ons, and other factors.
The total cost of installation varies depending on the following factors:
Size, shape, and complexity of the roof (installing skylights, vents, etc.)
Quality of torch on materials
Seasonal price fluctuation
Expertise, experience, and location of the contractor
Removal and disposal of an old roof
Inclusions such as warranty and additional services (replacing broken tiles, caulking, etc.)
We recommend consulting with a professional roofing contractor to discuss the best solution for your particular roof and budget. CD roofing prioritizes customer satisfaction and offers a wide array of services at competitive rates. Reach out to our team for a personalized consultation and to discuss all your roofing needs.
Pros vs. Cons of Torch On Roofing Over Tar & Gravel
The biggest benefits of torch down roofing over tar & gravel are as follows:
Pros:
A professionally installed torch-on roof can last between 20 to 30 years,
Lower maintenance costs – Torch-on roofs require less maintenance and are easier to repair.
Better insulation – Torch-on roofing is a better insulator than tar & gravel, meaning your home will retain heat in the winter and stay cooler in the summer months.
Modifying or adding new components is easier – Installing new components such as skylights, vents, and roof penetrations is easy with torch down roofing.
Less noxious fumes during installation
Cons:
Initial cost – Torch-on roofing is more expensive than traditional tar and gravel roofs. However, the long-term savings may outweigh the upfront costs.
Installation complexity – Torch on roofing requires specialist installation techniques, so only hire a skilled professional for this job otherwise, you may end up with a poorly installed roof.
Only applicable to flat roofs – Torch-on roofing is only suitable for flat or low-sloped roofs.
Not available in all areas – Torch on roofing is not widely available in some regions and may require ordering materials from out of town.
Fire risk – The use of open flames for installation makes them more vulnerable to fire hazards.
Installation of Torch on Roofing
Having a professional roofing contractor install your torch-on roof is essential as the installation process is a highly specialized process that requires expertise and experience. This type of roofing can be installed on an existing roof if it is in good condition and meets the required specifications, or it can be installed over new decking.
The first step in installing a torch-on roof is to ensure that the surface area is properly prepared, including all existing decking. This includes cleaning and priming the surface as well as installing an underlayment. A base sheet (fiberglass felt) is applied over the underlayment and then stapled or nailed into place to secure it. The base sheet needs to be installed so that it covers the roof smoothly and evenly.
The next step is to measure and cut the roofing membrane to size, taking into account any necessary overlap for seams. Once the base sheet is secured, a roll of bitumen material, also known as an asphalt blanket or torch-on membrane, is rolled out onto the surface of the roof. While the material is rolled out, a torch is used to heat and melt it into place, ensuring that it adheres to the base sheet and creates a secure waterproof seal. The material is pressed down firmly as it is rolled out, and extra steps may need to be taken to adequately seal any metal flashings, such as around vents and chimneys. If necessary, a primer or similar material must be applied to the metal surfaces prior to applying the roofing material.
Proper installation of a Torch On roofing system requires an experienced user with knowledge of using the blowtorch and ensuring adequate bonding of the material. It is important to only apply the flame in a specific area for the correct amount of time, as burning too long can lead to a compromised seal.
Precaution should also be taken to ensure that the installation process is not exposed to any type of adhesive or solvent-based materials, as these can harm the integrity of the roofing system. Additionally, special attention must be paid to ensuring that all seams are correctly sealed and overlapped for optimal waterproofing. Doing so will provide you with a secure, leak-proof seal that will last for decades.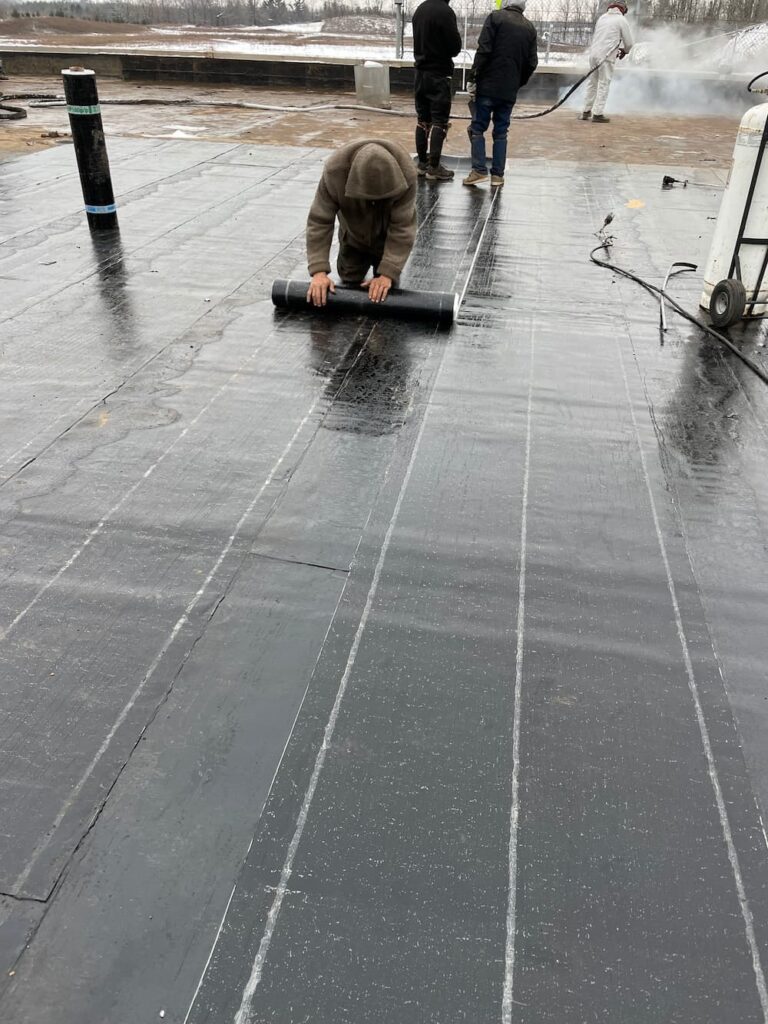 Why Hire CD Roofing?
When you want a high-quality, long-lasting torch-on roofing system for your home or business, you can trust CD Roofing to get the job done right. For more than 25 years, we have been providing reliable flat roofing services Whitby has come to know and trust. Our technicians are highly experienced in installing torch-on roofing systems and are committed to providing superior service.
We are fully licensed and insured, have all necessary liability/fire insurance, and have a team of ticketed installers to ensure the project is top-notch. We are truly dedicated to your satisfaction and will ensure every question is answered and every concern addressed so you can feel confident in your new roof.
Given the numerous advantages, a torch on roofing is an excellent solution for commercial and residential buildings alike when it comes to durability, energy efficiency, and longevity. Reach out to CD roofing for expert consultation and a no-obligation estimate on your next roofing project.