How Much is a Flat Roof Replacement in Durham Region?
If you have a flat roof here in the Durham Region that has seen better days and needs more than patching, you'll certainly wonder how much it's going to cost to replace it. While flat roofs are certainly easier to walk on and work on than gable or pitched roofs, calculating the cost is not as simple as merely figuring out the square footage. There are other factors you may not have thought of that go into the estimate. So just exactly how much is flat roof replacement in Durham Region Ontario? Flat roof repair cost per foot ordinarily ranges from $8.50 per sq. ft. to $15, depending on the following factors.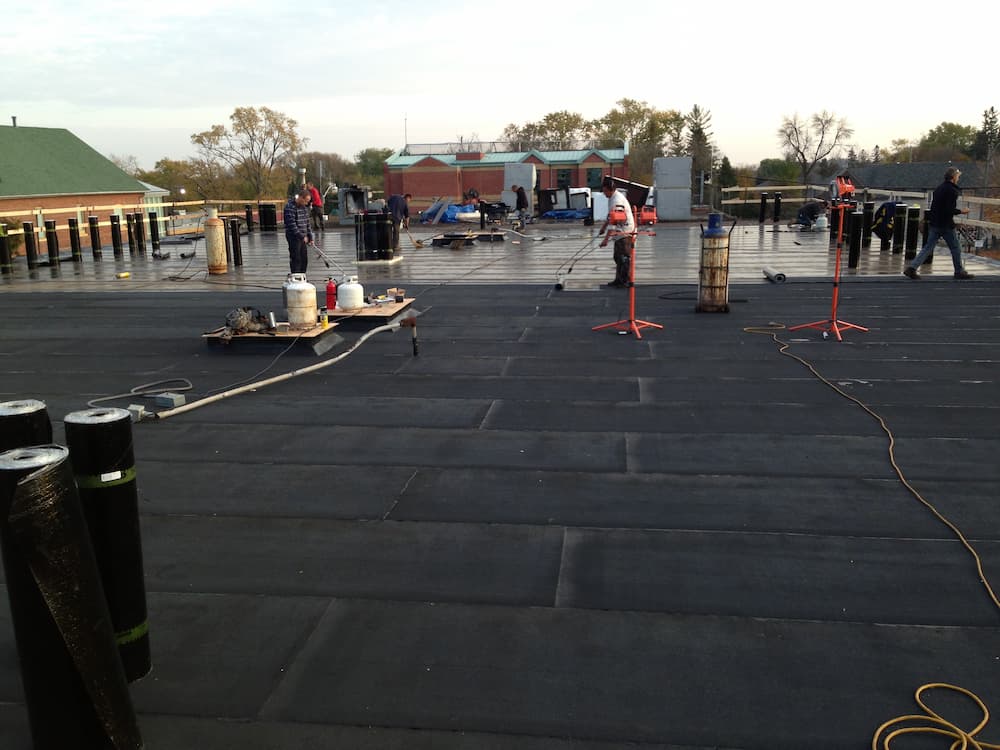 Existing roof layers
The number of layers of roofing that exist plays a large part in the cost. In the past, another layer of roofing may have been added when there were problems rather than a complete replacement. This will leave several layers of old roofing to be removed. Naturally, if there is only one layer to remove, it's not going to cost as much as a roof that has been roofed over numerous times, leaving several layers to take off. That's going to take a lot more man-hours to accomplish.
If you happen to have roofing that was installed during the 1920s to 40s, there may be even more costly. This is because fibrous materials were often used on flat roofs during that period which may require special handling and disposal.
The roof height
Tall buildings with flat roofs do cost more for roofing replacement than shorter buildings. This is mainly because taller buildings require the use of a chute or other equipment to safely move the old materials to the ground without harming anything or anyone.
Access around the building
Your roofers will need to get a dump truck into a good place for putting the old materials and newer scraps. If there is not enough room to get that truck into the right place, the workers may be reduced to hauling the refuse to the truck in wheelbarrows. More man-hours mean more cost added when you're wondering how much is a flat roof replacement.
Number of obstacles on the roof
Anything that requires special care to attach the roofing around will mean more cost. This includes any A/C units, vents, pipes, or posts. All of these will require cutting the roofing to fit around them and installing flashing around the items. Again, more man-hours and more materials.
Square footage
You already knew about this one, but don't forget about it.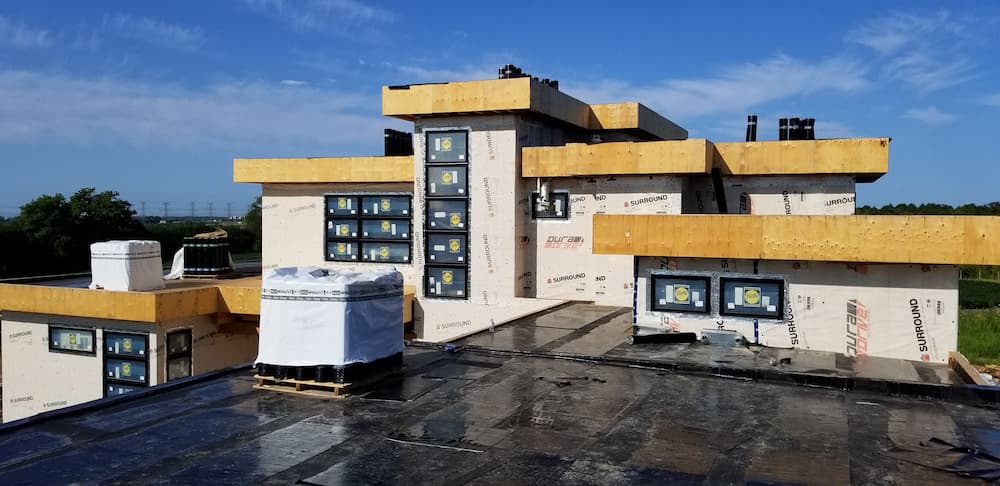 Now comes the next phase of the estimate – the cost of your new roofing materials. The cost of these will vary with roof size, material thickness, type of material used, and your installer. It's best to get at least three estimates. Take your time speaking with the estimator to try to get a sense of how conscientious the company is in their work, if possible.
Type of materials available:
BUR
This stands for Built-Up Roofing. It's the oldest and most common type of material, usually found on older buildings but still used today. Several layers of felt roofing are fused with hot asphalt, or bitumen finished off with a layer of roofing gravel. This forms multi-layer protection for your roof. Most of the roofs come with a ten-year warranty.
Modified Bitumen Membrane
Rubberized substances are added to the bitumen, or asphalt, to make it more pliable and less likely to become brittle with age. This protects it against the effects of Canadian temperature shifts. This roofing method only requires two layers, a base sheet plus a cap sheet, which are heat welded together. Usually, the cap sheet covered with granules is used, but a smooth sheet can also be utilized. These roofs usually have a ten-year warranty as well, and come in several color choices.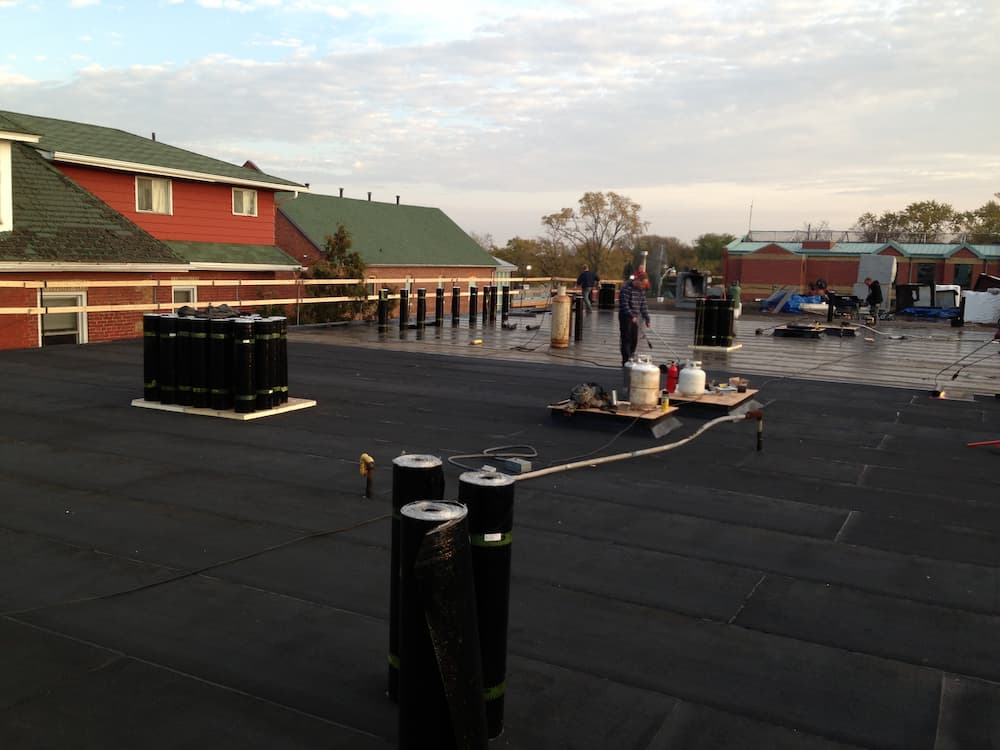 EPDM Membrane
This stands for Ethylene Propylene Diene Monomer. It's a synthetic rubber used in single-ply materials. It features a lower cost and extended warranty. In fact, some of these roofs last up to 50 years. It costs as little as half of a 4-ply gravel and tar system while boasting up to twice the warranty length.
Most new commercial buildings use this type of roofing (or TPO), but it also is fine for smaller residential projects. It comes in long rolls of 10 x 100 ft. up to 50 x 200 ft., meaning fewer seams in the materials. Most jobs can be completed fairly quickly, and there is no odor when applying.
TPO Membrane
Thermoplastic Polyolefin roofing is another lower-cost, single-ply roofing material. The main difference between the two is that TPO seams are three to four times stronger than those of EPDM. It even comes in white, which greatly helps reflect heat from the roof and the building.
Final thoughts…
When investigating your options, it's a good idea to acquaint yourself with the various types of roofing so you can make an informed choice according to what's best for your needs. Both the cost of an old roofing removal and installation of the new can vary among installers.
How much is a flat roof replacement in Durham Region? Flat roof repair cost per foot ordinarily ranges from $8.50 per sq. ft. to $15, depending on the factors mentioned above. CD Roofing offers free estimates on your flat roofing projects so feel free to give us a call and schedule a consultation.