Comparing A Flat Roof House Vs. Pitched
Choosing the best roofing system is one of the most crucial decisions due to the several factors you need to consider. Comparing a flat roof house vs. pitched roof house requires more consideration than just aesthetics. The fundamental features of your roof can predominantly affect your property's structural integrity and stability.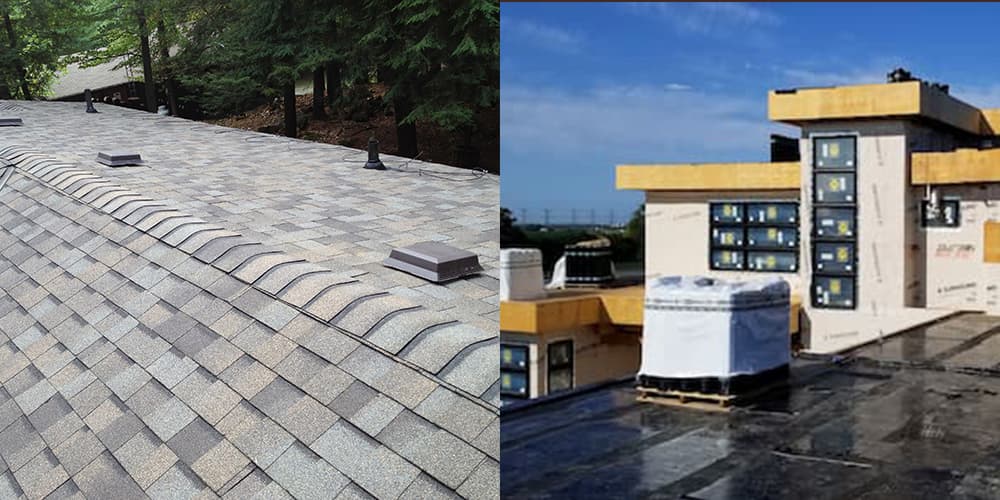 Business owners are now becoming more inclined to modernize the appearance and functionality of their roofing systems, with the more significant number of properties converting their flat roofs to pitched roofs.
Roofing systems offer different features and functionalities, but how would you know which one is the most suitable for your property and your needs? As with any construction materials, there are advantages and disadvantages to both. It is ideal if you clearly understand the structural differences between a pitched roof and a flat roof.
Pitched roof v. flat roof costs
When comparing a flat roof house vs. pitched, the flat roof will be less expensive in upfront costs. The installation process is faster, easier and most flat roofs don't last as long as pitched roofs. Keep in mind that although the price is a strong motivator, it shouldn't be the determining factor for your decision. There are many other aspects of functionality that you must take into consideration. 
To make it easy to understand, we've gone through all the pros and cons when comparing a flat roof house vs. pitched.
What do flat roofs offer home and business owners?
Despite their name, flat roofs aren't generally flat because they have a shallow slope between ¼ to ½ inch per foot, allowing them to drain water. It is an ideal choice for buildings and commercial properties due to its compact nature.

Advantages of installing a flat roof
When it comes to any roofing job, most people highly consider the sheer amount of work required. Flat roofing outperforms pitched roofing in this regard, as it is a lot faster and easier to install. This quality is highly appealing for most business owners due to the reduced turnaround time of flat roof installation, not to mention its cost-effectiveness, with each insulation board priced at approximately 80 cents per foot.
A flat concrete roof is unbelievably durable and can withstand heavy winds. It is resistant to water which means you don't have to worry about any water damage.
The flat roof is undeniably cheaper when it comes to application and maintenance. With cost effectiveness being its main advantage, labor costs less due to the minimal risk involved in flat roof installation. 
There are notably minor damage and repair expenses over its lifespan since cleaning and inspections are more accessible due to its leveled surface. In addition, installing a convenient access point on the roof like galvanized roof hatches is ideal to ensure safety and convenience.
Another great feature of flat roofs is the additional outdoor space that they provide. Your roof can instantly be an outdoor lounge space, a garden, or an ideal canvas to promote sustainability by placing solar panels or equipment that can boost energy efficiency. 
Disadvantages of installing a flat roof
Flat roofs only have an average lifespan of 10-20 years, which can be a disadvantage for long-term property owners.
Another major disadvantage of a flat roof is the lack of a proper drainage system. You might need to regularly inspect your roof, especially after a storm or heavy rain and during winter due to the snow. Since there are no slopes for the water or snow to slide down, you need to clean out the drain now and then and use a waterproof seal to prevent leaks. 
Clogged gutters will eventually lead to pooling water which could then cause water leaks and mold build-up on your roof. You may resolve this by having a roofer install an additional drainage system, but of course, this is an added expense.
Since flat roofs are generally flat, they are more prone to structural damages, especially for properties situated in areas that experience persistent rainfall and snow. That said, if you own a flat roofing system, you need to conduct regular inspections once or twice a year to ensure that it is in top condition. 
They are also less stable than pitched roofs and cannot withstand weight naturally, so builders need to compensate elsewhere to strengthen the whole structure.
What does a pitched or angled roof offer home and business owners?
A pitched or angled roof inclines 10 degrees downwards with its slope on both sides or one direction only. It is significantly more common in households and commercial properties than flat roofs due to its signature triangular shape.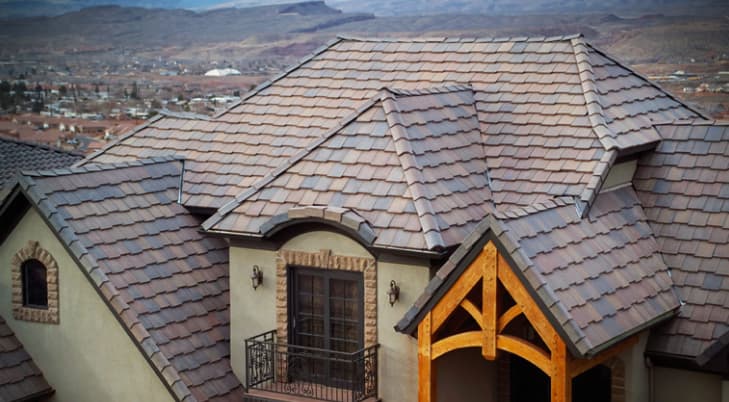 Advantages of a pitched roof
A standard asphalt shingle pitched roof can outlive a flat roof by 20 to 40 years, depending on the shingles and roofing materials used. Aside from a pitched metal roof, concrete, clay and slate tiles are the longest-lasting roof options.
With their famous triangular shape, pitched roofs are far more stable and effective than flat roofs for extreme weather and heavy rain and snowfall. Its design helps direct external elements away from the property with a very minimal chance of waterlogging.
Pitched roofs are significantly better in generating thermal efficiency due to a natural ventilation system underneath their top roof layer. A smaller structure envelope means higher thermal mass, which helps maintain a more comfortable temperature inside the property throughout the year.
The space between the pitched roof and the interior top allows efficient ventilation by eliminating excessive heat from the roof space during summer and cold air during winter. Pitched roofs can also improve energy savings by adding insulation to reduce heat transfer through the roof and ceiling.
While flat roofs provide usable outdoor space, pitched roofs, on the other hand, conveniently create additional interior space that is convertible into an attic or loft without the added expense of adding an entirely new floor.
Disadvantages of a pitched roof
Since pitched roofs offer more versatility than flat roofs, installation is more expensive due to their complex design, additional building materials needed, and labor cost.
This roofing system also places a tremendous burden on the foundations of the building and demands a sizable depth of footing. It is also not applicable for multi-level buildings and contemporary architectural designs.
Your choice of a roofing system will ultimately depend on your circumstances and personal preferences. From a professional perspective, pitched roofs present more advantages. They will last longer, but flat roofs are your ideal choice if you are looking for a reliable, low-cost solution.
Your decision-making should revolve around the type of property you're dealing with and how much maintenance and care it needs over time. In conclusion, your choice will have long-term implications for the wellness and upkeep of your property.