Skylight Installation & Repair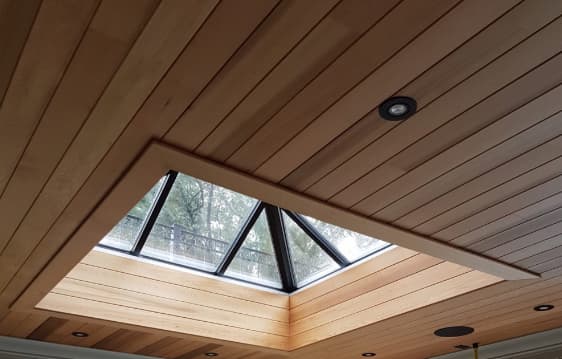 The additional lighting a skylight provides can make an incredible difference to the look and feel of your living area or workspace. C.D. Roofing & Construction Ltd. is a certified skylight contractor and has earned the gold standard in skylight installation. Whether it's for aesthetic reasons or energy-efficient benefits, we are fully equipped to handle your skylight installation and repair needs. 
Benefits of a new skylight
Installing a new skylight means taking advantage of a number of benefits that natural light affords.
Increased natural light means less money on electricity bills
Natural light provides your skin with vitamin D
Decreases the likelihood of seasonal depression
Reduces the negative effects of florescent lighting
Increased ventilation (for skylights that open)
Discover the best daylighting in the industry
We work with the top skylight manufactures in Ontario to provide you with the most cutting edge daylighting solution on the market. Choose from a wide variety of standard skylight models or tell us about your custom design.
All of our installations come with the following:
Curb mounted to ensure your skylight is raised off the roof
Metal flashing for a professional finish to every skylight curb
Weatherproof seal that eliminates thermal movement and reduces noise
Complete structural reinforcement to ensure your skylight safe and adequate support
Standard residential skylights
Curb mount skylights
Self-flashing skylights
Unit circular skylights
Pyramid skylights
E-gress hatchlite
Commercial types of skylights
Commercial prefabricated curbs
Commerical unit
Structural architectural
Lean-to skylights
Fall-protection series
Do you need skylight repair services?
The most obvious sign you need to repair your skylight is the presence of water around and below your installation. A leaky skylight can be detected by a visual inspection for cracks, discolouration of the glass and/or moisture build up in the area.
Signs and symptoms you need to repair your skylight
Drywall exhibits signs of discolouration or bubbling
You can feel a draft coming from the general area
Your skylight is past its warranty and reached its lifespan
Water build-up
The ceiling is stained from water
The roof has sustained damage in close proximity
Debris in and around the protrusion
Any visible opening in the seams, flashing or unit itself
Choose us for your skylight services and installation
Make the best choice for your home or business and call us today. As your certified skylight installers, we offer the best in workmanship and provide our clients with top-notch customer service. Fill out our contact form for a free estimate and consultation.